SCROLL COMPRESSOR manufacturer china best quality factory wholesale
Product Detail
Product Tags
OVERVIEW
Zhejiang Daming Refrigeration Technology Co. Ltd is a technical private enterprise specialized in researching into, designing, producing and marketing of refrigeration compressors and units. It has the semi-hermetic refrigeration compressor brand "Jinming", scroll refrigeration compressor brand "SCROLL" and semi-hermetic screw refrigeration compressor brand "RFC".
Company has the first-class refrigeration compressor production base in China,with plant more than 10,000 square meters, the introduction of a variety of imported advanced processing equipment, set up modern refrigeration compressors and condensing unit assembly line, and equipped with professional warehouse center and logistics distribution center.
The company has more than 30 years of refrigeration compressor manufacturing experience, formed an international and domestic refrigeration elite technical team, strong technical force. It also employs professional management consulting organizations to establish a modern efficient management mode to improve the management level of enterprises.
The company aims to "Build a famous brand of China, Create a hundred years enterprise" and follow the management philosophy of "Quality-oriented,Innovation-focused".Make high-quality products with ingenuity. Seek unlimited energy with innovation.Strive to  make "Daming refrigeration" a famous brand,to be the top refrigeration compressor manufacturer in China.
Daming--- Frozen scroll compression technology provides superior solutions for freezing applications.  
Scroll compressor is the ideal choice for high reliability, high energy efficiency and compact system design.
DM series can provide products of 3hp-15hp, and its applicable refrigerants include R22, R404A, R134A, etc.
Features & Advantages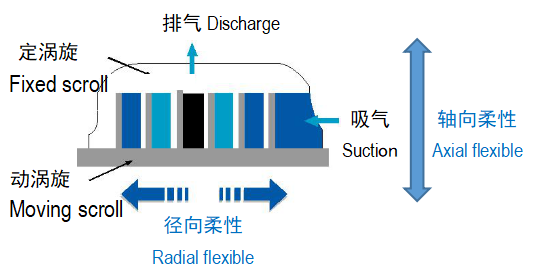 Double flexible design
Make sure the seal between the scroll discs.
Allowing the scrolls to be radially and axially separated,
debris or liquid may pass through the scrolls without damaging the compressor.
*Higher usage time and reliability.
*Better liquid tolerance.
*Better impurity tolerance.
High energy efficiency ratio
The scroll disc is running in rather than worn
*Increased performance with running time.
*High volumetric efficiency
Lower noise & vibration levels
Smooth sound spectrum & soft sound quality
*Compression chamber is always symmetrical
*Very low unbalanced stress
*High-precision manufacturing process
*No vibration absorption device
High strength metal composite bearing
*Space-age materials
*Porous bronze.
*PTFE coating
*Extend the running time without full lubrication
*Very small coefficient of friction
Unloading startup technology
The compressed parts are separated from each other after the shutdown to balance the internal pressure of the compressor,without the need for additional starting device.
                                                            Model Cross reference Table

HP
POWER
PHASE
DAMING SCROLL MODEL
COPELAND MODEL
INVOTECH MODEL
3
50Hz220v
1
DM50HM-S2F-G02
ZB21KQ-PFJ-558
YM49A2G-100
3
50Hz220v
1
DM50HE-S2F-G01
ZB21KQE-PFJ-558
YM49E2G-100
3
50Hz380v
3
DM50HM-T3F-G02
ZB21KQ-TFD-558
YM49A1G-100
3
50Hz380v
3
DM50HE-T3F-G01
ZB21KQE-TFD-558
YM49E1G-100
5
50Hz380v
3
DM86HM-T3F-G02
ZB38KQ-TFD-558
YM86A1G-100
5
50Hz380v
3
DM86HE-T3F-G01
ZB38KQE-TFD-558
YM86E1G-100
Cooling Capacity(C/C) 
380V/420V,3Phase,50Hz,   R404A
Model         

Condensing temperature(°C) 

Evaporating temperature(°C) 

-25

-20

-15

-10

-5

0

5

DM50HE-S2F
DB21KE-S2F
C/C(KW)
30
3.45
4.31
5.25
6.35
7.65
9.11
11.7
40
2.91
3.71
4.55
5.51
6.61
7.91
9.35
50
2.43
3.01
3.65
4.45
5.41
6.45
7.71
POWER(KW)
30
1.87
1.87
1.87
1.85
1.85
1.84
1.84
40
2.34
2.34
2.34
2.33
2.32
2.31
2.29
50
2.95
2.93
2.93
2.92
2.91
2.89
2.87
NOTE:1.Test Condition: Suction gas temperature18.3°C, supercooling degree 0 K
             2.The lowest evaporation temperature : -12 ℃
Technical Data
380V/420V,3Phase,50Hz
MODEL

DM50HM-S2F

DM50HM-T3F

DM86HM-T3F

DM260HM-T3F

DM50HE-S2F

DM50HE-T3F

DM86HE-T3F

DM260HE-T3F

MOTOR TYPE

220V/50Hz/1Ph

380-420V/50Hz/3Ph

1Phase

 3Phase

Nominal Power

(H.P)

3

3

5

15

Displacement

(m³/h)

8.8

8.8

14.6

42

(LRA)

(A)

75-82

36-40

58-65

168-174

(RLA)

(A)

12.5

5.7

8.9

27.1

(MCC)

(A)

23

8

12.5

33

Run capacitor(1 Ph)

60μF/370V

Crankcase heating power

(W)

70

70

70

90

(OD)

(D/P)

(inch)

 1/2

 1/2

 1/2

 7/8

(S/P)

 7/8

 7/8

 7/8

1 1/8

Dimensions

(L)

(MM)

242

242

242

242

(W)

242

242

242

242

(H)

415

415

455

540

 Foot mounting dimensions.(Aperture)

190×190(8.5)

Oil Volume

(L)

1.3

1.3

1.9

2.7

WEIGHT

N.W.

(KG)

27

27

40

58

G.W.

30

30

43

60
Daming: Adopt advanced technology to provide customers with cost-effective products.
• We have over 30 years of professional experience as a manufacturer of semi-hermetic compressor, scroll compressor, screw compressor, condensing unit.
• We make the compressors according to your usage.
• We have strong researching and developing team to meet your requirement.
• There are lots of raw material suppliers around our factory, our factory is located in Zhejiang Province,China.
• We supply high quality compressors to many companies and manufacturers around the world.
• Our factory got ISO 9001 and CE certificate, importantly we have factory which built over 20,000 square meters of production base.
• Small trial orders can be accepted,  sample is also available .
• Our price is reasonable and keep top quality for every clients.
Primary Competitive Advantage
 •Small Orders Accepted            •Brand-name Parts            •Country of Origin        •Distributorships Offered           •Electronic Link   •Experienced Staff                     •Form A                                 •Green Product             •International Approvals            •Cost-effective     •Military Specifications            •Standard   Packaging           •Good Price                 •Reputation                                   •Customized          •Product Performance             •Prompt Delivery                   •Quality Approvals      •Provide Good Service             •Sample Available
Payment Terms : Advance TT, T/T, L/C.
Delivery Details: Within 30-50 days after confirming the order.
For more details, please download the catalog or contact sales, thank you.
DAMING:Welcome to visit our factory!
---
---