Zhejiang Daming Refrigeration Technology Co., Ltd.
On November 24, 2019, the 20th China HVACR Expo ended successfully in Ningbo International Expo Center. Zhejiang Daming Refrigeration Technology Co., Ltd. was invited to participate in the exhibition and showed three types of refrigeration compressors and units: piston(reciprocating), scrolls, and screws. And other refrigeration equipment.
Daming's participation in this exhibition is for the purpose of learning advanced, communication and cooperation, making full use of this exhibition opportunity, to communicate and negotiate with customers and dealers who come to visit, to further expand the company's visibility and influence in the same industry, and also further Learn to understand the product characteristics of advanced companies in the same industry in order to better improve their product structure and show their advantages.
At this exhibition, we exhibited a series of products such as semi-hermetic reciprocating, scrolls and screws compressor developed according to market demand. They have the characteristics of mature technology, compact structure, low vibration, low noise, high energy efficiency ratio, and strong stability.
The three-day exhibition attracted countless exhibitors and visitors, and the patient staff enthusiastically and seriously communicated with the visitors throughout the process, explaining in detail for each consultant, and giving live demonstrations through the equipment. Gain a more intuitive insight into the device.
At the same time, Zhejiang Daming won the award of the well-known enterprise in the refrigeration industry as the king of votes in the "Polar Bear Award" selection of the China HVACR Expo.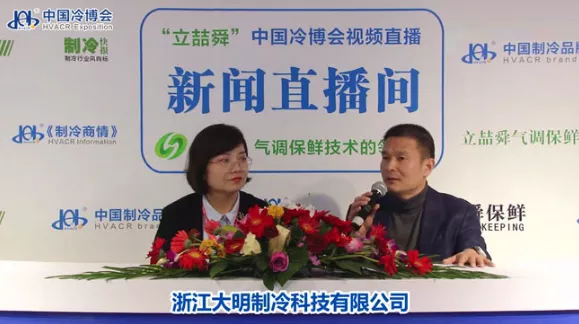 Subsequently, General Manager Xie said in an interview with the Expo News Live:
Reciprocating compressors are the main project of Daming. Through the efforts in recent years, the quality control has increased steadily every year, and it has also increased by 20% this year. However, it is estimated that there will not be a large increase in the use of piston machines. If you want to improve from the current situation, you need to start with quality and service. For this 20% increase, I believe that the eyes of customers are clear. After visiting our production base, I naturally have the answer in my heart. I think that to be a good company, you must have a responsible attitude. If you don't, your customers will eventually abandon you.
We started to innovate and complete the industrial chain 6 years ago, just to build national enterprises. We have certain innovations in screw, piston, and scroll. Our new piston base and scroll screw base have invested a lot of money, only to be able to make the brand of Daming recognized by the world. The materials we use are provided by well-known manufacturers at home and abroad. At the same time when the cost increases, the product price naturally cannot fall. Daming screw compressors have experienced many ups and downs in the past six years, but I now think that this insistence is right, because now that we have already become a business, we cannot only consider it for the purpose of making money. Although our pistons have already achieved certain achievements, the screw is a great improvement to the integrity of the entire Daming enterprise. It is necessary to have such a plot for the national brand to make the screw compressor well!
Unlike scroll compressors and pistons, which require very high accuracy, a lot of money has been invested in the equipment. Moreover, due to the current production constraints, procurement costs are also very high. At present, I don't use it as a money making tool, I just want to make high-quality scroll compressors. So when we first started R & D, we attached great importance to it, and once it did n't meet the standards, we pushed it back. Not only scrolls, all compressors have to undergo 2,000 hours of experiments during our R & D process. During this period, many engineers were hired to gather the strengths of hundreds of experts to achieve full coverage of Zhejiang Daming's pistons, scrolls, and screws with excellent quality. The product has been well received and has won various awards at the Expo.
Send your message to us:
---
Post time: Nov-28-2019