Why do customers specify RFC screw compressors for using? Due to the noise of the reciprocating compressor? Then it was replaced by semi-hermetic scroll compressor, more easily for operating and energy-saving. How to achieve it? Semi-hermetic reciprocating compressor is limited of demand, how to win more market share?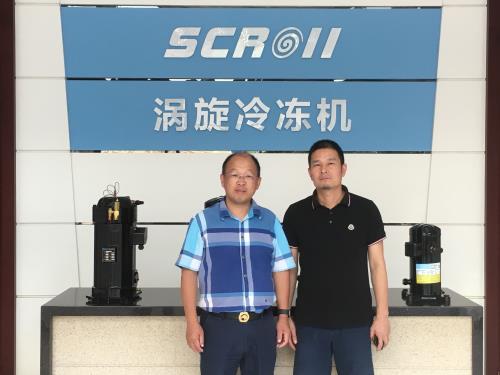 The right is Mr.XIE XINJIANG, DAMING General Manager
In 2019, the Refrigeration Expo visited Zhejiang Daming Refrigeration Technology Co., Ltd. to review the Daming's history in the past few years, and the significance of the strategic layout of DaMing products of reciprocating, screw and scroll compressor.
"This is the sixth year since Daming RFC screw machine has entered into market and in massive production. Last year, Daming still sold in stock, This year it was sold as orders. Such a qualitative improvement. Recently, Daming sell seventy to eighty units screw compressor per month. Xie Xinjiang said, GM of Daming. Many customers have designated RFC screw compressors for their condensing units. This shows that Daming screw products have withstood the test of the market. For example, 16 units of Daming screw compressor were assembled into five sets of parallel condensing units. It has been applied to the project of Chongqing Belt and Road, achieving an evaporating temperature of minus 45 degrees and a condensing temperature of 40 degrees.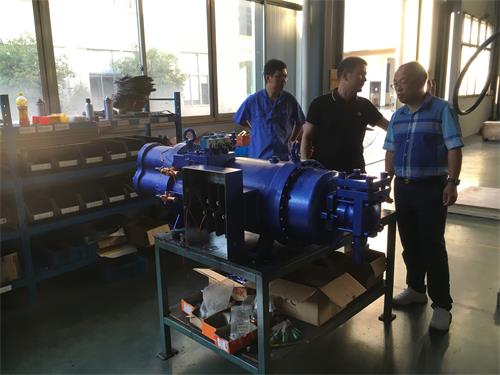 In the industry of scroll compressors, Daming have been developing this market since 7 years ago, invested a lot of money and human resource, and finally got a high-precision product. It is understood that a user in Hengyang, Hunan, the original cold-storage compressor used a semi-hermetic reciprocating compressor, the noise is particularly high, has been repeatedly complained, and they later replaced with three 15P semi-hermetic scroll compressors of Daming, the running noise is extremely low, no one  complaint anymore , they are very satisfied with Daming compressor performance.
Xie always told this reporter: "Da Ming Scroll Factory introduced Japan's advanced vertical processing center equipment to ensure the precision of each set of scroll. The three-coordinate inspection equipment imported from Germany ensures the contour and parallel of each set of vortexes. The accuracy of the degree and verticality data, using the international advanced flexible servo intelligent assembly line to ensure the product quality of Daming scroll compressor. At the same time, there is a strong laboratory for performance testing and reliability testing, currently Daming test conditions are applied same with the internationally renowned manufacturers, such as: 2000 hours of maximum full load test, 2000 hours of maximum compression ratio test, 600,000 test standards such as 600,000 start-stop tests, and current R&D engineers are constantly optimizing the design to higher performance. Speaking of the reliability challenges, for example, the DSF series semi-hermetic scroll compressor using DTC vapor enhanced valve device can stably control the exhaust gas temperature below 98 °C under the evaporation condition of -40 °C, with its ultra-low operating noise. The ultra-low vibration level, easy to install and operate, is highly appreciated by the engineering company.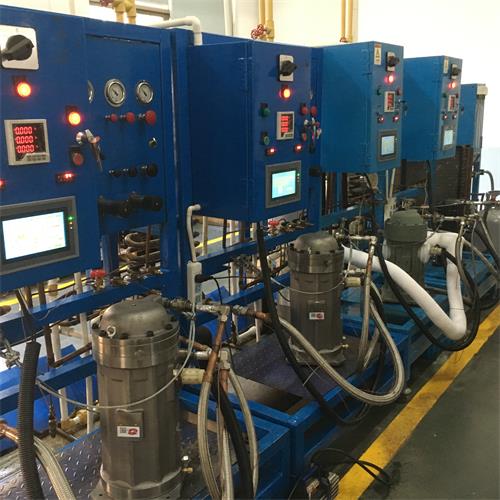 This year, the scroll and screw compressors will lead Daming enter into a new stage. The semi-hermetic compressor 's sales volume also grows obviously. It is expected to sell 4.5-5 million units in 2019. This also shows that the overall demand for the semi-hermetic compressor has not decreased, but the competition between the various brands has intensified and the market will be further differentiated.
In addition, Mr. Xie led the visitors from Expo to see the new factory in Daming. "The entire new plant covers an area of more than 30,000 square meters. We will concentrate all three compressors of piston, screw and scroll into this factory. There will be a brand new, very standardized and very modern one. The factory is the one your never seen before."
Li Yiqiang, chairman of Qianghua, praised Mr.Xie many times. "From the development of semi-hermetic reciprocating compressors to the marketing of domestic screws, and gradually increasing the capacity of production, while entering the scroll compressor market, and strive for progress, such capabilities and spirits are rare in refrigeration industry, looking forward to Daming win another glory. Of course, Daming's full coverage strategy is now achieving remarkable fruit, and the compressor market is bound to change in the future."
Send your message to us:
---
Post time: Aug-08-2019